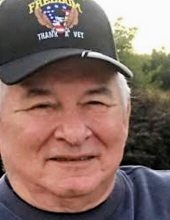 Obituary for Rusty Doyle Rinard
Rusty Doyle Rinard, 70, of New Matamoras, OH passed away on Wednesday, October 31, 2018 at his residence. He was born on December 4, 1947 in Marietta, the son of the late Doyle Chauncey and Doradean Cunningham Rinard.
Rusty graduated from Matamoras High School in 1965 and was the Alumni President. He was an Army Veteran of the Vietnam War and was a member of American Legion Post 378 in New Matamoras where he served as Commander. Rusty had worked as a welder for Skuttle Manufacturing. He was also a past mayor and past council member of New Matamoras and past Fire Chief of the Grandview Township Fire Department.
Rusty is survived by his wife, Gloria Romick Rinard, whom he married on January 18, 1969. Also surviving are his children, Travis Rinard (Karina) and Nikki Hall (Joseph), both of New Matamoras, OH and three grandchildren, Kaytland Morgan (Will), Chasidy and Wyatt Hall.
In addition to his parents, he was preceded in death by an infant daughter, Andrea Rinard.
Per his wishes, cremation will be observed with services to be held at the convenience of the family. in lieu of flowers, memorial contributions may be made to Matamoras Legion Post 378, P.O. Box 324, New Matamoras, OH 45767.
Online condolences may be made at www.hadleyfh.com.