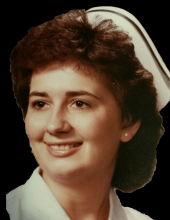 Obituary for Leslie Ann White
Leslie Taylor White passed away on September 30, 2019. She was born in Bellaire, OH, on September 22, 1962 to Jack Richard Taylor and Lois Louise Hall Taylor.
Leslie will be forever cherished in the hearts of her loving father, Jack R. Taylor, of New Matamoras, OH, her devoted sister, Lisa J. Taylor, of Leesburg, VA, her faithful friend, Celesta Crawford, and many friends and family in Ohio, Pennsylvania, and Virginia, to include her former husband, Kevin White, his mother, Gertrude White, and the nursing staff who cared for Leslie. She was preceded in death by her mother, Lois Louise Taylor, on October 27, 2014.
Leslie grew up in New Matamoras, OH. She cherished her mother and wanted to be just like her…so much so that her immediate family lovingly called Leslie "Mom's clone". Even at an early age, Leslie wanted to become a nurse just like Mom, and of course, had to have a nurse's watch (one with a sweeping second hand) just like Mom's.
Though a momma's girl at heart, Leslie also adored her "daddy", who sang "Old Rattler" on demand and took his family on wonderful drives through the country, looking for wildflowers (especially fire pinks) and wildlife (we had contests to see who could spot the most deer on any given night).
Definitely the older sister, at an early age Leslie convinced her younger sister Lisa that she actually enjoyed playing "mouse sandwich", a game where Leslie (the cat) stuffed Lisa (the mouse) under the "bread" couch cushions and then sat on her and pretended to eat her! Funny how Lisa was always the mouse in this game. In quieter moments, right before drifting off to sleep, Leslie would often regale Lisa with tall tales of the adventures of Big Dave and Little Dave. Lisa was so little at the time, she can't remember any of the stories but does remember enjoying those close moments with her big sister.
Leslie and Lisa used to split a can of SpaghettiOs for lunch, and they always divided the meatballs evenly. Leslie would count the meatballs and if there was an odd number of meatballs, Leslie would cut one in half to be fair. Lisa recalls Leslie coming to her defense in a haunted house one Halloween, when a ghost terrified little Lisa. Leslie ran toward the ghost yelling, "Leave my sister alone!" Lisa also recalls near nightly water and kitchen towel battles as Leslie washed the dishes and Lisa dried them.
Leslie loved to play Scrabble, both as a child and as an adult. Until not so very long ago, she would still win at Scrabble. She played the saxophone in the Frontier High School band, and excelled in academics. Leslie had fun with her friends, acting in class plays in high school. She always loved children and enjoyed helping with Vacation Bible School at the Methodist Church.
Leslie worked as a librarian's aide at the local library during high school and kept in touch with the librarian, Doris Miller, by letter for several years after graduation. Doris loved hearing from Leslie.
One summer in high school, Leslie was part of a small Christian singing group who called themselves the Marturions, meaning Witness, with Missy Doan, Tom and Richard Danford, sister Lisa and others. They sang at several local churches in the area.
As a teen, Leslie often baby-sat neighborhood children and they loved Leslie. She was especially fond of James Leroy Poole, II, affectionately called "Two Poole" by family and friends. Over the years, she touched many people, made lots of friends, including lifelong friends like Celesta Crawford, who faithfully sent cards and gifts throughout Leslie's life, including Leslie's 57th birthday, just over a week ago.
Leslie became a Registered Nurse in 1984, with a Bachelor of Science (B.S.) degree from The Ohio State University College of Nursing. After graduation, Leslie worked in the neonatal intensive care units (NICU) at Philadelphia area children's hospitals.
On November 5, 1988, she married J. Kevin White, an attorney with the Bureau of Alcohol, Tobacco and Firearms in Philadelphia. Leslie was diagnosed with a brain tumor shortly thereafter and had a series of operations that stopped the tumor's growth, but left her with short-term memory problems and other deficits which meant she could no longer work as a nurse. Over the years, Leslie's health slowly but steadily declined due to whole-brain radiation administered after one of her surgeries.
Leslie loved the Lord and walked with Him throughout her life. She was pleasant to all of her caregivers and smiled despite every hardship that came her way. She never lost her sense of humor. She loved to read, and even as it became increasingly difficult, she still carried books with her. When she was no longer able to read, her sister read to her during frequent visits.
While married, Leslie and Kevin traveled to Ireland. She found the green Irish countryside so beautiful and peaceful. Leslie enjoyed making pottery as a hobby. One of Leslie's favorite music compositions was Pachelbel's Canon.
Despite the dissolution of the marriage, Leslie remained close to her former husband and mother-in law, who adored Leslie. Kevin continued to oversee Leslie's care for many years after the divorce. For this, Leslie's family is very appreciative.
Leslie never complained about her "lot" in life, and was more concerned about not being a burden to anyone. Leslie was easy to love and her smile continued to light up rooms throughout her life.
Funeral services will be held at 11 AM on Monday, October 7, 2019 at Hadley Funeral Home New Matamoras Chapel, 700 Main St., New Matamoras with Rev. Dennis Williams officiating. Burial to follow in Matamoras Cemetery. Friends may call from 4 - 8 PM on Sunday, October 6th at the funeral home.
Online condolences may be made at www.hadleyfh.com.
Previous Events
Visitation
Hadley Funeral Home - New Matamoras
700 Main St.
New Matamoras, OH 45767
Service
Hadley Funeral Home - New Matamoras
700 Main St.
New Matamoras, OH 45767
Graveside
Matamoras Cemetery
Cemetery Road
New Matamoras, OH 45767